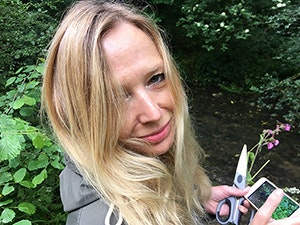 Rowena is a Somerset based artist who is inspired by the natural world.
She is particularly interested in the unnoticed beauty of overlooked, delicate yet determined plants we call weeds.
Rowena collects plants and flowers from her local fields and hedgerows and recreates her own mini meadow in her studio.
Her artwork has a delicate, flowing feel, where plants intertwine and meet.
Building layer upon layer using a variety of mediums and fine lines, she creates a sense of timelessness and balance. Rhythms, colours, repetition, collage, reflections, puddles, looking up and looking down, all feed into her ethereal pattern like pieces.

C.V

Group Exhibitions:

2017-2020 Moorwood Arts, Bruton
2015-2020 Seed, Frome
2015-2020 Makers, Bristol.
2015-2020 Fisherton Mill
2012-2013 Somerset Arts week
2011 Pop Gallery, Frome
2009-2011 The Wyle Art Trail, Somerset
2009-2011 The Royal Institute of painters in watercolour, The Mall Galleries
2001&2005 Singer&Friendlander/Sunday Times Watercolour Competition.
2001 Late Arrivals Kings Cross, London.
2001 Lamda, The Rythmn Factory EC1, London.
2001 Art on paper, RCA, London.
2001 The cadogan Contemporary, SW3, London.
2000-2003 The AffordableArt Fair, Battersea. London
2000-2001 The International Art Consultants, EC3, London.
2000-2002 C21 The Bankside gallery, London
1999 Marie Curie Cancer Care, The Edinburgh festival.
1999 The City gallery, London.1998-1999
1997-1999 Quantum Contemporary, Bayswater, London
1998 The Gallery, Cork Street, London.
1998 Fixed, The Colville Gallery, Goodge Street.
1998 The Blue gallery, South kensington, London
1997 Oriel Mryinn(Up the Garden Path), Wales.
1997 The Air Gallery, Walton Street, London.


Solo Shows:
1998 Brewery Arts Centre, Kendal.
1995 The Rooksmoor gallery, Bath


Education:
1991 Art and Design Foundation Studies, University of the West of England.
Awarded student prize.

1994 BA Hons Printed Textiles, Glasgow School of Art.